Personal Insurance For Farmers in Florida, Georgia, Alabama, South Carolina, Tennessee & Mississippi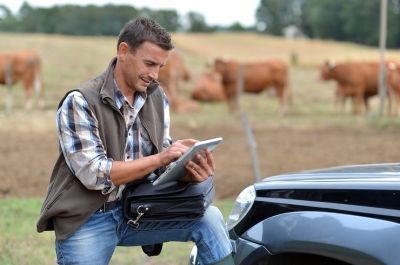 Protect Your Family And Home Like You Protect Your Farm With Southern Farm And Wind Insurance
Farms are one of the most important industries in the United States. As a farmer, you provide food for your community and those who live far. Doing this involves a lot of hard work and know-how. Plus, farming does not come without its risks.
You can protect yourself, your family and your farm by purchasing the right personal farm insurance policies. There are many different types of personal insurance for farmers and it may seem like you are looking for a needle in a haystack, so be sure to get help from the professionals at Southern Farm and Wind to choose the right coverage for your particular lifestyle.
Quality Personal Insurance For Farmers Is A Must In Georgia And Florida
At Southern Farm and Wind Insurance, we know Farm and ranch owners have a different lifestyle than other, which translates into unique insurance needs. You may get sick out in the field, or you may fall off one of your horses and break a limb. And what will happen to your loved ones and your farm when you pass away? Will they be able to maintain it? Traditional coverage may not adequately respond to the needs of farmers. That's why Southern Farm and Wind Insurance has personal insurance policies for farmers/ranchers which provides broad and flexible coverage to help you get all your ducks in a row. Whether you run a small or large operation, own or rent your premises and land, or raise crops or livestock, one of our personal insurance policies can be tailored to meet your insurance needs.
Different Types Of Personal Insurance For Farmers
Many Americans living in the big city work for large corporations that offer benefit packages that include important features like retirement savings plans and health plans. As a farmer or rancher, you work for yourself and you must buy these polices on your own to protect yourself and your family from the unique risks that come with the lifestyle. Both normally work with large heavy equipment such as conventional farm Tractors, Combines, Hay Balers, Field Cultivators, Ammonia Sprayers and Semi-Tractor Trailers Rigs. Tangling with any of these behemoths could easily cause a serious injury or loss of life
Some of the personal insurance plans for farmers and ranchers you may consider are detailed below.
Life Insurance For Farmers
If you should pass unexpectedly. A solid life insurance policy from Southern Farm and Wind Insurance can provide your loved ones with the financial security they need to carry on the family farm in your absence. Life insurance companies have their standard polices and then they have a market for higher risk policies for individuals that lead lives or work occupations that have higher risk for getting injured for even killed. The breeds
of cattle with horns mainly from out west like the Texas Long Horns could take the life of a Rancher within seconds if gored in a vital area.
This is where a properly designed life insurance policy from Southern Farm and Wind Insurance comes into play. Life insurance is not only for the wealthy, it is the security your family needs to keep your pride and joy, your farm, going. Southern Farm and Wind Insurance can make the overwhelming feelings that come with choosing the correct life insurance a thing of the past.
Health Insurance For Farmers
The risks American farmers have to take on an average day are way beyond anything a typical American with a sit-down job ever faces. If it is not a machine causing the injury it could be an animal. Cattle have been known to kick in a similar fashion as a horse or a mule with needless to say extreme force and strength.
Most farmers hire seasonal workers and will in that case be except from the requirement to provide healthcare benefits to your full-time employees. The Affordable Health Care Act will, however, require you to purchase health insurance for yourself and your family. Luckily, you can keep yourself and your family healthily and safe buy purchasing a health insurance plan through Southern Farm and Wind Insurance.
With so many plans and carriers to choose from, it may seem overwhelming but you can rest assured with the help of Southern Farm and Wind Insurance, that there is a health plan that suits your needs as a farmer and the needs of your family. We will find you affordable health coverage that meets that needs of your farm lifestyle.
Personal Auto Insurance For Farmers
Just because you live and work on your own land doesn't mean you are not required to have personal auto insurance for your cars. Southern Farm and Wind Insurance is your one stop shop for insuring your all the vehicles on your farm.
Don't Put All Your Eggs In One Basket: Liability Insurance For Every Farmer
As with any business or property, farm owners face liability risks. You can purchase a commercial farm and ranch insurance policy but you have to make sure it fits the unique needs of yourself, your family and your farm. Below we have detailed some liability insurance coverages you may need to protect yourself.
General Liability Insurance For Farmers
If a visitor to your farm is injured on your land or in your home, you may be liable for any resulting medical costs. If you frequently host tours of your land, or if you have an on-site market for your goods, this coverage will be particularly important. Other types of liabilities you should be prepared to protect yourself from include:
Accidental damage caused by you
Legal defense costs
Coverage for legal liability arising from ownership, use, or occupancy of the farm, including the dwelling
Liability arising from normal farming operations
Liability from property damage to rented residences or farm outbuildings
Pesticide application liability
Product Liability Insurance For Farmer
This will protect you if the food or products sold by your farm cause illness or injury.
Workers Compensation Insurance For Farmer
Workers Compensation is usually required by law, but with the Agriculture Business, it is not required. The specifics depend upon your states regulations and the number of workers you employ. If a worker on your farm is injured on the job, this insurance coverage will provide compensation for all related medical bills. Workers compensation is not required for contract workers.
Commercial Vehicle Liability Insurance For Farmers
You will also need commercial auto insurance for the commercial vehicles you use on your farm like tractors and trailers. You can insure all your farm vehicles on a single commercial vehicle insurance policy. This will protect you from liability risks if a driver of one of the vehicles injures another person or causes property damage to another.
Non-Owned Or For-Hire Vehicle Liability Insurance
If farm employees are using their own personal vehicles to perform job duties, or if you hire someone to transport farm goods, your farm can be held liable for damages if that person is involved in an accident while carrying out the job. This insurance provides coverage only when the vehicles are being used.
For A Free Quote On Personal Insurance For Farmers Contact Southern Farm And Wind Insurance
Your wellbeing is essential to the success of your farm, so having the right protection for yourself and your loved ones is just as important as protecting everything else that helps your operation run smoothly. Southern Farm and Wind Insurance has over 30 years of experience in all kinds of commercial and agricultural business insurance. We're anxious to put that expertise to work for you and your farm. Let us help you find the best personal insurance plan for your life as a farmer today!
If you've got questions about personal insurance coverage for farmers, we've got the answers you need to make informed policy decisions! If you're ready to see how much you could save on personal insurance in Georgia and Florida, call Southern Farm and Wind Insurance today at 1-800-385-1559. For a free online personal insurance quote, fill out the quote form on our Contact Page!