Georgia, Florida, Alabama, South Carolina, Tennessee & Mississippi Row Crop Insurance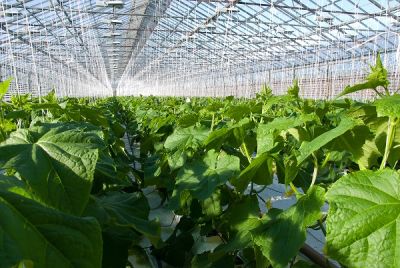 Crop Insurance: A Fundamental Component Of Any Southeastern Row Crop Operation
Crop insurance is essential to the livelihood of many farmers who grow row crops for a living. Row crops are large-scale commercial crops that are grown in rows, which are planted and mechanically harvested only once a year. Row crop Insurance protects these edible assets from covered losses. This form of farmers' insurance also covers the farmer from any financial loss due to crop depletion or low crop yields. Row crop insurance is a very unique insurance product as it also protects from economic changes, for instance, a major change in the marketplace.
Southern Farm and Wind Insurance knows many unique risks are associated with the row crop industry. We also know that the right row crop insurance coverage can protect your business and keep it afloat through even the most trying of times. Southern Farm and Wind Insurance is committed to finding your row crop farm the right coverage!
What Types Of Crop Farms Are Covered With Crop Insurance?
Southern Farm and Wind Insurance covers crop farms including:
Tabaco Farms
Berry Farms
Orange Farms
Olive Farms
Citrus Farms
Apple Farms
Corn Farms
And more!
Contact Southern Farm and Wind Insurance today to see if we can get your crop farm covered! We offer coverage throughout the south including Georgia, Florida, South Carolina, Alabama, Tennessee, and Mississippi.
Row Crop Insurance: Tailored Coverage For Row Crop Farm Operations
Row crop farms need specialized crop insurance coverage due to the different way in which they are grown and harvested. As stated before, row crops are grown in rows and harvested annually, unlike permanent crops which may take years to harvest.
Row crop insurance losses must be due to events or causations which are unavoidable and beyond your control as a farmer, such as a drought, freeze or disease. Some policies offer coverage due to adverse weather events such as the inability to plant that season due to excess moisture or loss due to the quality of the crop. Row crop insurance also offers coverage for loss of revenue due to price volatility in the markets.
Federal Crop Insurance: Leveling The Agriculture Playing Field
Due to the high degree of risk associated in the row crop farming industry in comparison to other agricultural producers nationwide, the government has entered into a partnership with private Approved Insurance providers (AIPS) to offer Crop Insurance on an equal-opportunity basis to agricultural producers nationwide. AIPs use independent licensed agencies, like Southern Farm and Wind Insurance, to make Federal Crop Insurance available to farmers and ranchers everywhere.
What Does Crop Insurance Cover? The Ins And Outs Of Federal Crop Insurance/Multi-Peril Crop Insurance (MPCI) And Crop-Hail Insurance
There are two types of Crop Insurance available to Farmers in the Southeastern United States, Federal Crop Insurance also referred to as Multi-Peril Crop Insurance and Crop-Hail Insurance.
Multi-Peril Crop Insurance
Federal Crop Insurance or Multi-Peril Crop Insurance (MPCI) was developed by the Federal Crop Insurance Corporation to protect farmers and ranchers from losses which may occur during the growing, harvesting or transporting of row crops. In times of low production and damaging weather Multi-Peril Crop Insurance enables farm families to meet their financial obligations - both commercial and personal.
Losses must be due to unavoidable circumstance or beyond your control as a farmer. This could include drought, flood, hail, windstorms, and disease. Some Multi-Peril Crop Insurance policies offer coverage for adverse weather events that lead to excess moisture, which may result in the inability to plant that season. Coverage for loss of profit due to the quality of the crop that year is may also be included. Multi-Peril Crop Insurance is the risk management tool that puts a safety net under your farms cash income.
Each crop type has its own list of covered causes based on its specific risks. Although crops vary somewhat, most provide coverage against the following:
Fire
Insects
Plant disease
Wildlife
Earthquake
Volcanic eruption
Failure of the irrigation water supply
The initial application for Multi-Peril Crop Insurance is submitted from a Federal Crop Insurance agent's office and then electronically submitted to an approved insurance provider (AIP), like Southern Farm and Wind Insurance. All applications must be on file with the Federal Crop Insurance agent by the applicable sales closing date (SCD). These dates vary by crop, region, etc. For more information on sales closing dates or crop insurance, in general, give us a call today. Let Southern Farm and Wind Insurance show you the way to a Multi-Peril Crop Insurance plan uniquely perfect for you and your row crop farm.
Crop- Hail Insurance
Crop-Hail Insurance is not part of Federal Crop Insurance and can be provided to farmers directly from Southern Farm and Wind Insurance. Many farmers purchase Crop-Hail coverage because hail has the unique ability to totally destroy crop fields. The acres of your hard-worked land and the loss of crop yield caused by hail damage may be less than the deductible of your federal crop insurance policy or it may not be enough to protect your profits. Crop-Hail insurance can fill that gap. Unlike MPCI, Crop-Hail Insurance policy can be purchased from Southern Farm and Wind Insurance of Georgia at any time during the growing season.
While many Crop-Hail insurance policies cover much more than hail, insurance professionals have kept its traditional name. Usually in many Southeastern states in the United States, Crop-Hail Insurance policies also offer coverage for:
Fire and lightning
Transit
Reimbursement of replanting costs
Carry over coverage
Vandalism
Stored grain coverage
Pasture, Rangeland And Forge Insurance: Protecting Your Hay And Graze
Southern farmers and ranchers who depend on grazing and hay production have an insurance coverage available to them that can provide compensation when drought conditions affect their forage production. This insurance coverage is called Pasture, Rangeland, and Forage, or PRF, insurance coverage.
Like traditional crop insurance, PRF insurance is backed by the USDA's Risk Management Agency (RMA) and is sold by private crop insurance agents like Southern Farm and Wind Insurance. PRF insurance works by paying an indemnity if a rainfall index for your insured land falls below a specified guaranteed level.
PRF insurance is a highly subsidized plan of insurance and is therefore extremely affordable. PRF insurance offsets the cost of additional feed expenses in times of drought so your bottom line stays healthy. Contact an experienced agent at Southern Farm and Wind Insurance to learn more about Pasture, Rangeland and Forge Insurance for your particular farm or ranch, as it involves specific sign-up dates and other complicated requirements and exceptions. Southern Farm and Wind Insurance would love to help you insure your hay with a PRF insurance plan that best suits the needs of your farm or ranch at an affordable rate.
For A Free Crop Insurance, Multi-Peril Crop Insurance, Hail-Crop Quote, Or Pasture, Rangeland And Forge Insurance Quote, Contact Southern Farm And Wind Insurance
What coverages do you need for your row crop farm operation? Not sure? Interested in exploring your options and saving money? Southern Farm and Wind Insurance has the answers you need to make informed policy decisions! Southern Farm and Wind Insurance has over 3 generations of experience serving the South and over 30 years of expertise in all kinds of commercial and agricultural business insurance. Give us a call today for risk-free insurance coverage quote to protect the row crop farm you have worked so hard to establish and run.
Give Southern Farm and Wind Insurance a call at 1-800-385-1559 for appointment scheduling or with any questions over crop insurance you may have. We offer free row crop insurance quotes for the states of Florida, Georgia, Alabama, South Carolina, Tennessee, Mississippi, and surrounding states. Or for a row crop insurance quote online, simply fill out the "get a quote" form on this page. We're anxious to put our expertise to work for your row crop farm. Let us help you find the best row crop insurance plan for your Southern crop farm today!